Remembering Mimi
By Ashley|Rountree Team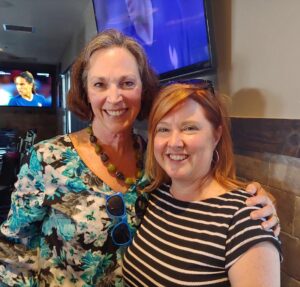 Our friend and colleague, Marie "Mimi" Ward, passed away November 8, 2023 after a battle with pancreatic cancer.
She joined Ashley|Rountree as a consultant after a long career in the nonprofit sector, including 17 years with the Kentucky division of the American Cancer Society and 11 with the University of Kentucky's College of Arts and Sciences. Through these and other roles with the American Printing House, Hosparus Health, and Sacred Heart Schools, Mimi honed her fundraising skills and proved an invaluable asset to the clients she served through Ashley|Rountree. Her expertise with annual funds, major gifts, planned giving and capital campaigns helped raise untold support for nonprofits across the Commonwealth.
An accomplished athlete and All American, Mimi had a particular passion for swimming. She served on the board of the Shelby County (KY) Parks Foundation, was a founding member of the Clear Creek Masters Swim Team, and became a certified instructor with the Adult Learn-to-Swim Program.
Mimi meant so much to our team members and her client partners. It is difficult to find words to express her impact and legacy, but several of us have made an attempt in this post. Mimi will be greatly missed.
---
"Mimi was delightful – engaged and engaging. She took a personal interest in her clients and sought to adapt to meet the needs in a unique response to fit. She made the shared work about the client and not herself. Mimi was genuinely interested and interesting." – Hattie Wagner, President & CEO, Presbyterian Homes of Kentucky
---
"My heart goes out to the team at Ashley|Rountree and to Mimi's family. Mimi was so very helpful as we were discovering ways to improve our fundraising and more effectively serve the people in and around Red Bird Mission. As friends, she and I had occasionally met in Lexington at her son's coffee shop. I will miss her." – Kari Collins, Executive Director, Red Bird Mission
---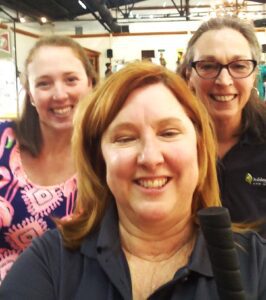 "I've been blessed to have several strong female bosses and role models throughout my career, and Mimi was one of them. She was compassionate, driven, insightful, fair, and always had time for questions or a good craft beer. She was my biggest cheerleader career-wise and she will be deeply missed."
– Kacy Noltemeyer, VP, Fundraising Solutions, and Senior Consultant, Ashley|Rountree and Associates
---
"Mimi was a person that always made you feel special when you were around her. She was very athletic and loved sports, and I know those experiences made her a great colleague and teammate. Mimi was also very affirming, and you always felt that when you worked on a project with her, you were working with your best friend." – David Cobb, Senior VP, Campaigns, and Senior Consultant, Ashley|Rountree and Associates
---
"Mimi was a kind, gentle soul, a trusted and valued friend, and an impactful fundraising professional who especially understood the importance of relationships. This is a tough time for all who knew and loved Mimi. Peace and prayers to her family and friends. She will be missed, and we will remember and honor her in our work moving forward." – Jeff Ashley, Founder and President, Ashley|Rountree and Associates
---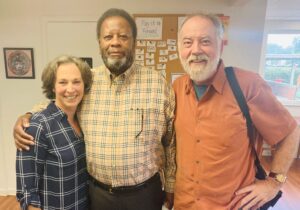 "I met Mimi, my friend and colleague of 20-plus years, as we bonded through our shared work in higher ed fundraising (back then, we both led development teams for colleges of arts and sciences at rival campuses in Kentucky). We soon discovered a passion for all nonprofits, as well as a shared love of music, cats, food, and politics. No one I knew in my profession better embodied the highest standards of integrity, intelligence, discretion, and compassion than Mimi, who worked more than four decades to make a huge difference. She was also a loyal and dear mentor for dozens of young fundraisers who were lucky enough to work with her at the University of Kentucky, Hosparus, American Cancer Society, Association of Fundraising Professionals, CASE Kentucky, and American Printing House.
In the last tour of her wonderful career, Jeff Ashley and I had the good sense to recruit Mimi for our staff at Ashley|Rountree and Associates, and I cannot think of a consultant who was better at interviewing and listening to donors or providing clear, wise counsel to development directors. When she sat with you, you knew you were seen, heard, and that you mattered. I know I counted on Mimi as a no-nonsense sounding board during her several years at our company. She was more than a trusted colleague – she was a dear friend. I was lucky to share this planet during Mimi Ward's too-brief but incredibly impactful life. She gave us all a template for making a difference. In your work and in your service to others, be a Mimi." – Mark Rountree, Partner, Of Counsel, Ashley|Rountree and Associates
---
"On an unseasonably hot and humid day in May 2018, Mimi, Mark Rountree, and I met at the Flying J truck stop in Waddy for a day trip to Red Bird Mission in eastern Kentucky, where Mimi and Mark were leading A|R's work with senior staff and board members for a capital campaign. In the Flying J parking lot, Mimi's attention was captured by a goat in a trailer. It was petted and talked to, and we shared concern about it having water and being in the heat. We assumed its caretaker was inside and would return shortly. Off we went for a day of adventures in beautiful territory.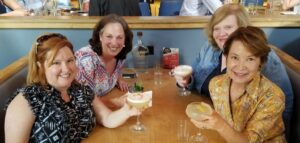 Our day at Red Bird Mission was a master class for me! Mimi and Mark's report to the board was practical and insightful. But more striking was their regard for the board members and everyone associated with the organization and its important work, and how they engaged throughout the day. Mimi gave me background on each of the board members and others I met, and context on the issues at hand. It was typical, thoughtful Mimi.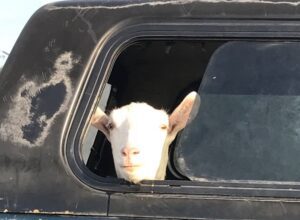 As we headed back to our cars at the Flying J, we wondered about the goat's day. To our surprise, the goat was still in the parking lot, unattended. Had it had any water during this hot day? Mimi immediately sprang into action. Inside the truck stop, she asked if anyone knew its caretaker…? No. Mimi, of course, knew people and stayed behind to make calls as Mark and I headed back to Louisville. Mimi waited for Shelby County animal control staffer to arrive and have a discussion with the goat's owner. The vehicle was being repaired, the goat was being taken care of, and Mimi made sure all was well before she left for home." – Matilda Andrews, Grants Consultant, Ashley|Rountree and Associates
---
More about Mimi:
View Mimi's obituary.
Learn more about Mimi's long career from her LinkedIn profile.
Throwback: Watch Mimi share her thoughts about interviewing donors for capital campaigns.
To honor Mimi, please consider gifts to:
Shelby County Parks Foundation/"Take Your Mark" campaign, 717 Burks Branch Rd., Shelbyville, KY 40065. Contact Dee Maynard at deemaynardky@gmail.com with any questions or for information about donating online.
The Marie Ward Undergraduate Research Award at the University of Kentucky. Make checks payable to the University of Kentucky and mail to: UK Gifts Receiving, PO Box 23552, Lexington, KY 40523. To contribute online, visit www.as.uky.edu/give, then type the fund name in the search bar in the upper right-hand corner. Contact Laura Sutton at lsutton@uky.edu with any questions.